September 30, 2014
Dear Friends of the Seaholm Residences:
Fall has officially kicked into high gear, and with the cooler weather upon us, we're inching closer and closer to the first aspects of the Seaholm neighborhood opening their doors for business. Come early next year, you'll be able to shop at Trader Joe's, dine at Boiler 9, pick-up your newest optical frames at Optique, pamper yourself at Jackson Ruiz Salon, and lounge in the Plaza at your leisure.
In the interim, and with only a handful of Seaholm Residences left, I'm eager to present an exciting opportunity. We have a limited number of owner occupied Studios remaining, and we would like to extend the chance for you to purchase these additional units.
Prices start at $314,000
558 SF
HOA fees of $237/month
Includes a full size parking space
Hardwoods standard throughout the unit (no upgrade needed!)
Gorgeous balcony
Perfect main residence, guest house or home office
If interested, please e-mail contactus@seaholmresidences.com or call us at 512.200.7440. Hurry! They'll go fast!
We wish you a wonderful rest of your September, and as always, please do not hesitate to contact us with any questions or comments.

Warmest regards,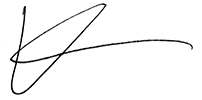 Mr. Kevin Burns
Broker & CEO, Urbanspace

The Exclusive Brokerage for the Seaholm Residences 

The construction team is hitting new milestones every day in the Seaholm neighborhood, and we're so excited to share the most recent developments on each aspect of the site:
Seaholm Power Plant​
Walter Seaholm Drive between Cesar Chavez and West 2nd Street is open
Site work on the south lawn continues
Work on configuring athenahealth's office space has officially begun
Seaholm Underground Garage 
Feature staircase leading to the Plaza is now complete
The artists selected to install a Public Art Piece on the wall visited the site on September 18th
Spray-on insulation under the Low-Rise and Residential Tower will soon be completed
Elevator lobbies are finishing-up
Seaholm Low-Rise Building
Building waterproofing is now complete
Storefront glass installation is complete
Stucco and metal panel skin installation continues
Seaholm Residences Residential Tower
The deck for the ninth floor parking level has been poured
The deck for the 10th floor amenities and residential units has started!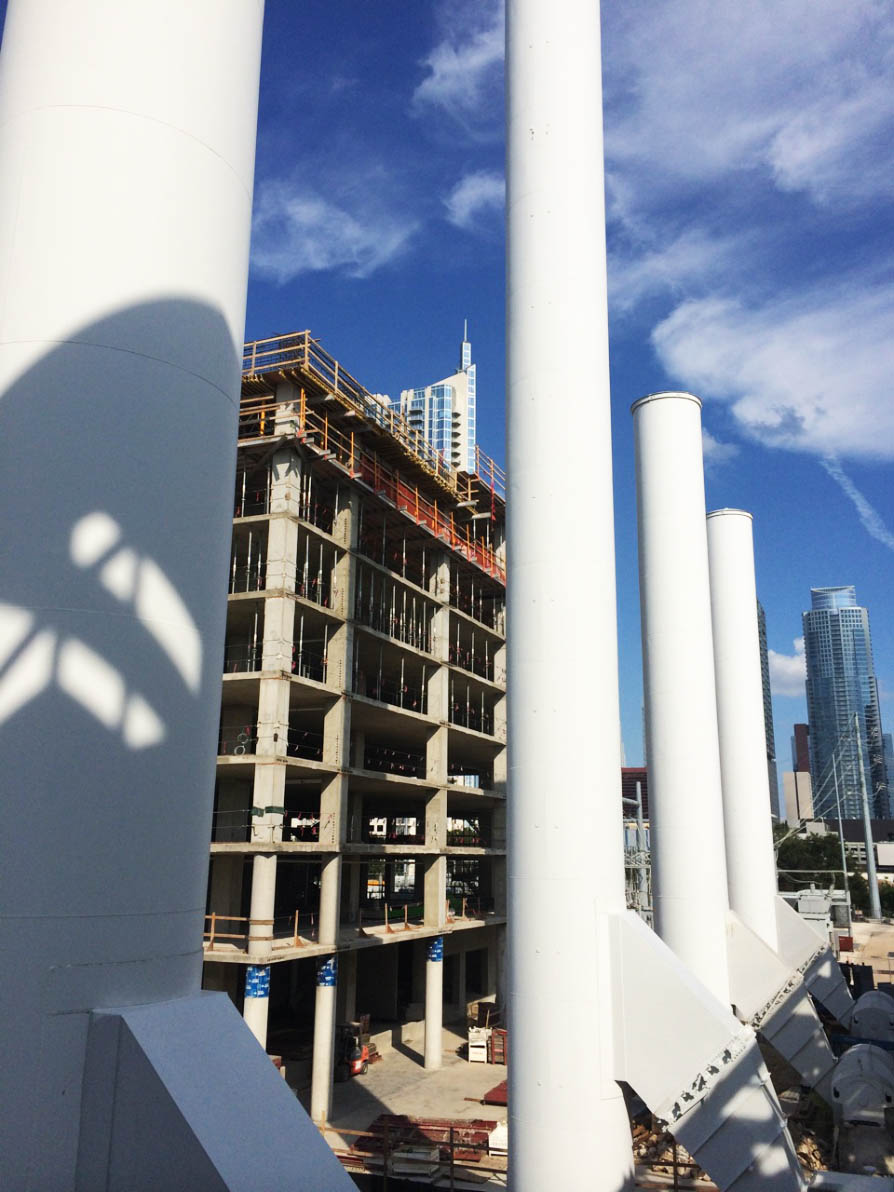 From Power Plant Looking Towards Residential Tower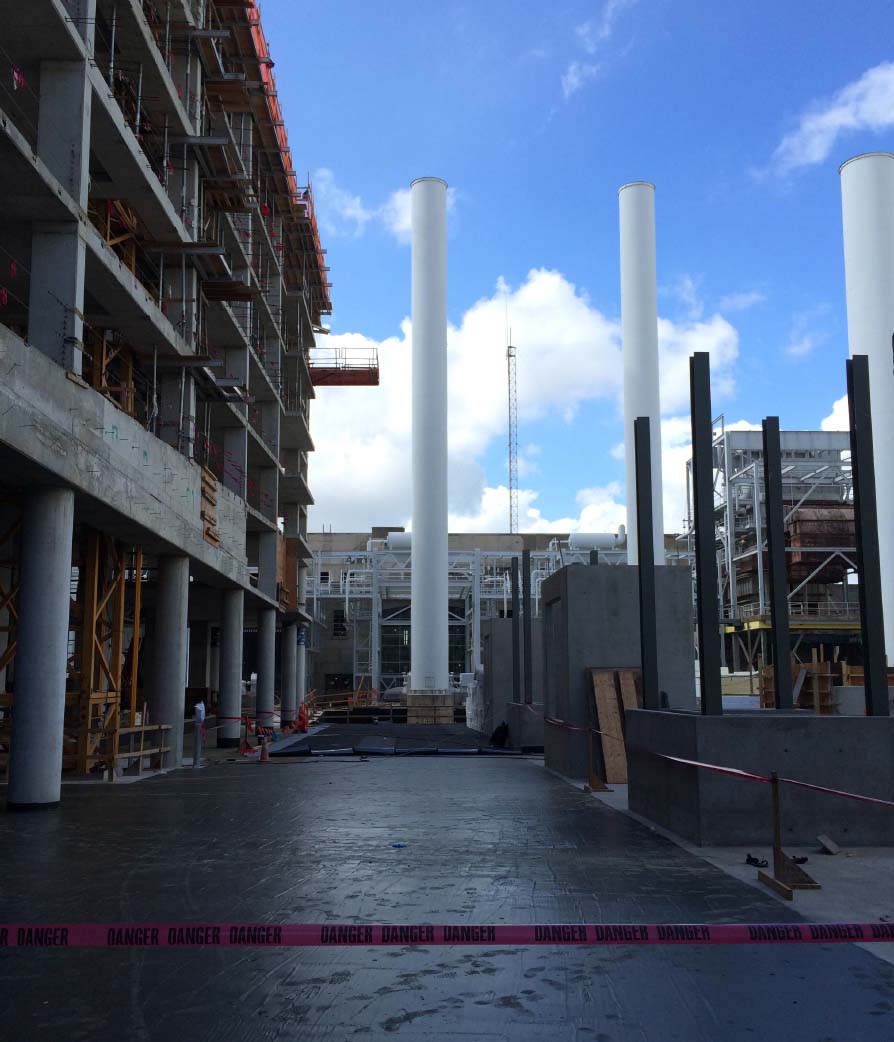 From Plaza Looking Towards Power Plant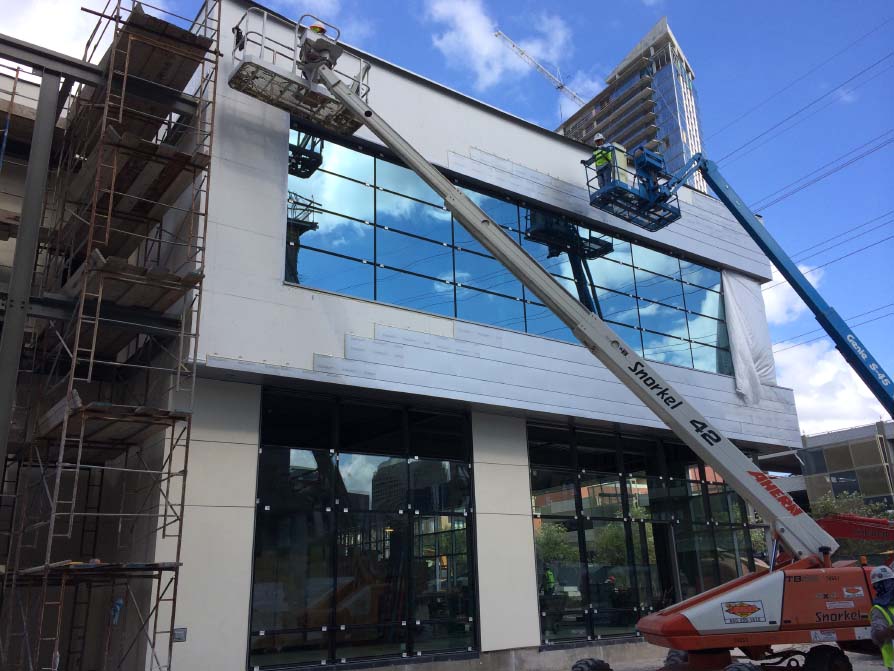 Exterior of Low-Rise Building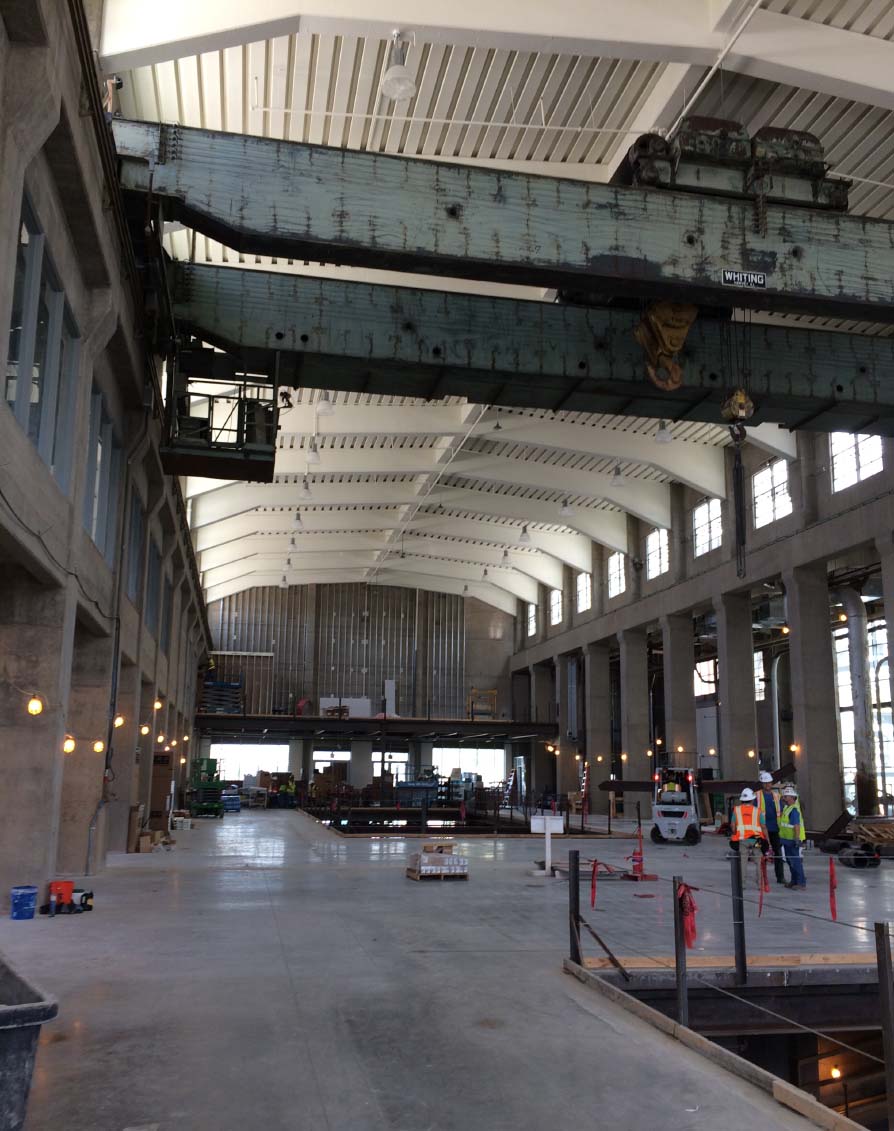 Interior of Power Plant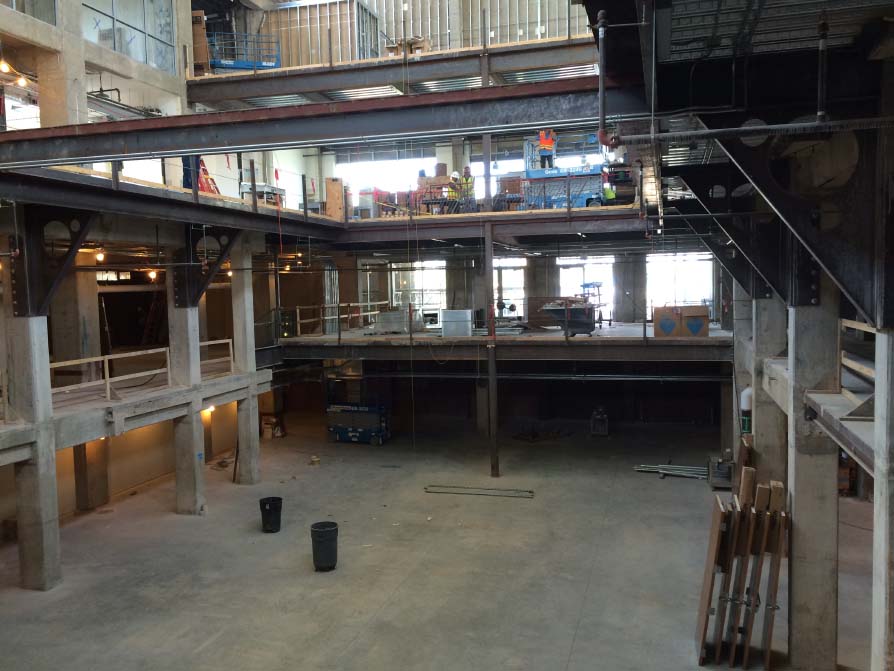 Future Coffee Shop in Seaholm Power Plant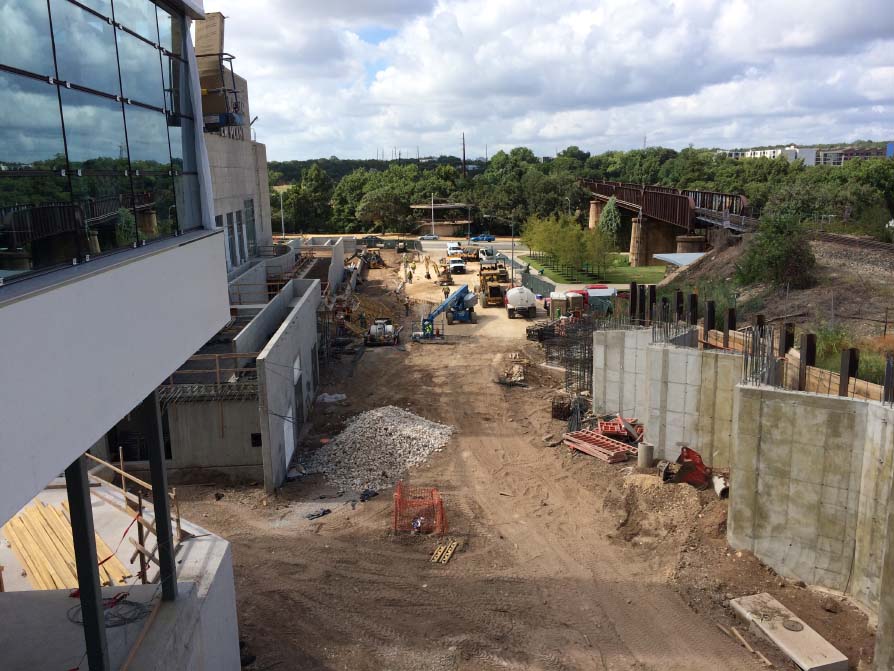 Walter Seaholm Drive Towards 1st and Lake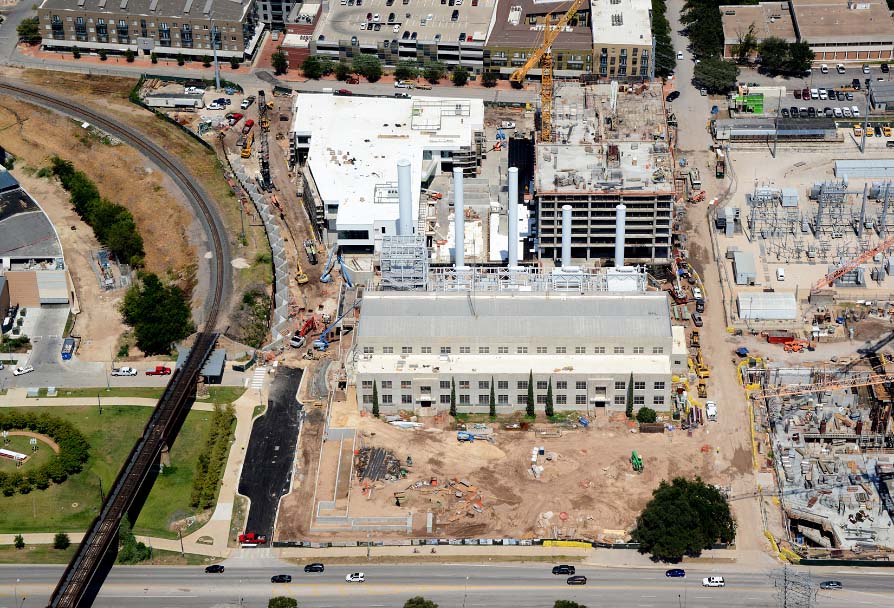 Aerial View of Construction #1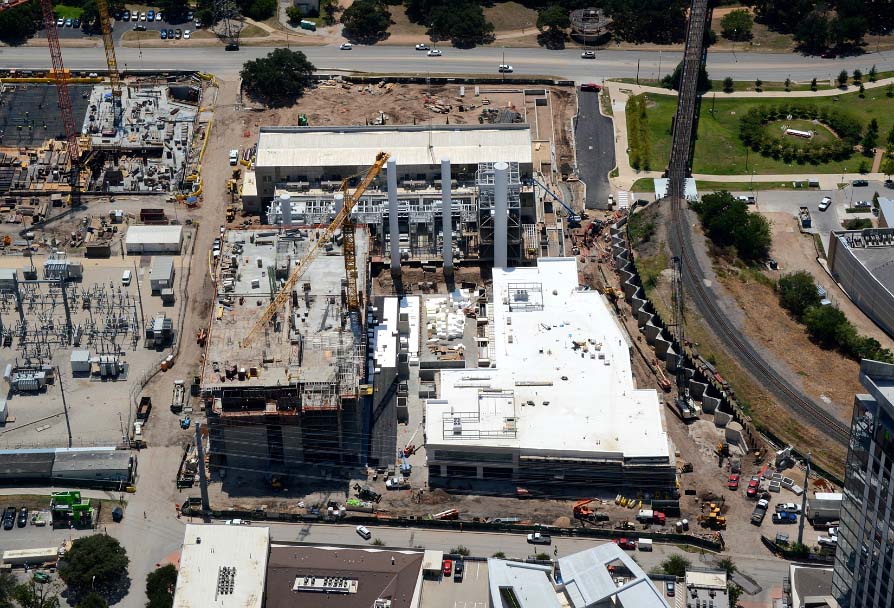 Aerial View of Construction #2 

Austin Business Journal: 'Uber-successful' Seaholm condo fills up fast
by Jan Buchholz
More than 80 percent of the square footage in the condominium tower at the Seaholm LLC development in downtown Austin now is under contract.
Exclusive listing broker Kevin Burns, CEO of Urbanspace, categorizes the 280-unit Seaholm Residences as the city's "third uber-successful" downtown condominium project of the past decade.
Burns represented one of the other success stories — The Milago at 54 Rainey St. — when it delivered 240 units in 2005. The other was the 360 Condominiums, 430 high-rise units, that were delivered in 2007. All were sold out before or when the project was completed.
"The high Seaholm conversion rate just goes to show how highly sought-after this project is," Burns said. "This is the location that will be the center of downtown living."
Seaholm LLC includes the repurposing of the original Seaholm Power Plant on Cesar Chavez Street into the corporate headquarters for technology company Athenaheath Inc.
In addition to the 30-story residential tower, a low-rise building will include office and retail space — a third Austin Trader Joe's is scheduled to open this fall — and an outdoor plaza, along with parking.
Burns said the Seaholm Residences will be home to a wide diversity of households from single, young professionals to young families and older empty-nesters. Most of the buyers, thus far, have been from Austin — downtown apartment dwellers who are ready to buy and retired couples now living in areas such as Westlake and Tarrytown who are ready to downsize.
"But I will tell you that we've had buyers from Portland and one buyer who purchased a unit while in Paris. Of course there's a share of buyers from Dallas and Houston," Burns said.
The urban real estate specialist said he purchased his own three-bedroom unit on the 11th floor with views of Lady Bird Lake, though he didn't disclose his purchase price. He said it's big enough for him, his wife, two kids and three dogs.
All but one of the three-bedroom units, which top off at about 2,227 square feet, are sold. Burns said he expects the final unit to be sold quickly.
The cheapest unit still available is a $314,000 studio at about 557 square feet. Burns said buyers shouldn't expect to grab something at the last minute considering there are 2,000 people on a waiting list. He is systematically going down that list, checking with potential buyers for one last opportunity to get on board.
The conversion from a waiting-list reservation — which required a refundable $5,000 deposit — means buyers must put down 5 percent of the total purchase price, which is not refundable.
"We've seen a wide range of financial buying power. This has been so successful because it's not about one particular demographic," Burns said.

Fall makes us excited for cooler weather, warmer hues, and seasonal dishes that recall special memories from way back when. For all the foodies out there, let's explore downtown culinary offerings that will inspire you to amp-up use of your luxury kitchen in your residence.
Get to Know:
SFC Farmer's Market at Republic Square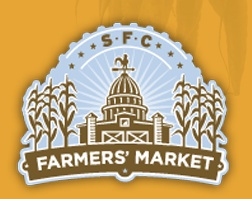 Since 2002, the SFC Farmer's Market has bridged individual's healthy food choices with a larger, vibrant, local food system. Through organic gardening, longstanding relationships with local farmers, cooking classes, and nutritional education, the SFC Farmer's Market has directly empowered healthier communities and sound eco decisions. With over 100 vendors each Saturday, rain or shine, from 9am – 1pm, you can uncover whatever you need – and new things you didn't even know you needed – at this weekly Farmer's Market. Make note – it's going to be your new favorite Saturday ritual!
http://www.sfcfarmersmarket.org/markets/sfc-farmers-market-downtown
422 W. Guadalupe Street
Republic Square Park
Get to Know:
Whole Foods Culinary Center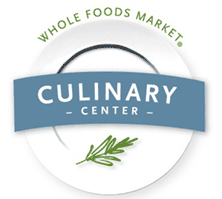 Cooking should be fun, inspiring and a global adventure from the ease of your home. Whole Foods' Lamar Culinary Center lives this mantra by crafting a diverse set of classes that are geared towards the home cook, not those who have studied at Le Cordon Blue! Learn how to make everything from pasta to sushi, all in their state-of-the-art facility. Best part is, you can dive into your very own culinary exploration without having to clean up a drop of mess!
http://www.wholefoodsmarket.com/service/lamar-culinary-center
Whole Foods HQ's
525 N Lamar Blvd.
Austin, Texas 78703

One of the easiest ways to make your condo all your own and create mood in a space is by adding some color, texture and pattern to your walls. Paint is great but wallpaper really creates a wow-factor. Many people think of wallpaper and remember grandma's floral patterns from childhood, but wallpaper has come a long way. Here are just a few examples: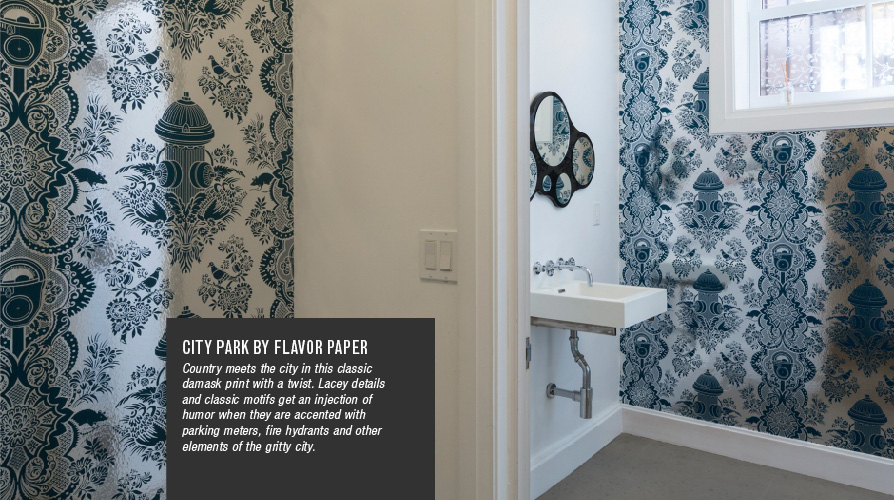 The materials, designs, square footages, features and amenities depicted by artist's or computer rendering are subject to change and no guarantee is made that the project or the condominium units are of the same size or nature as depicted or described.
We are in compliance with Title VIII of the Civil Rights Act of 1968. We have not, and will not, either directly or indirectly, discriminate against you or any other prospective purchaser on the basis of race, color, religion, sex or national origin. This is not an offer to sell, or solicitation of offers to buy condominium units in states where such offer of solicitation cannot be made.
Related posts