March 13, 2014
Dear Friends of the Seaholm Residences:
It's with great excitement that I share all of the Seaholm Residences most recent developments! To start, athenahealth has publically made its commitment to the community by taking over the Seaholm Power Plant and adding 607 jobs to the site. These jobs will carry an impressive average salary of $132,085, and the addition of athenahealth will help attract fantastic retail, restaurant and entertainment options for all of us to enjoy.
And speaking of restaurants, Jeff Trigger of La Corsha Hospitality Group and James Beard-nominated chef David Bull – the masterminds behind Congress Austin and Second Bar + Kitchen – have announced their latest endeavor, Boiler 9, within the Seaholm Power Plant.
Spanning four-stories and integrating one of the original Seaholm Power Plant boilers (boiler 9 – hence the name!) into the design, Boiler 9 promises to offer a restaurant experience unlike any other. Imagine drinks at sunset while savoring the gorgeous views from the highest level of the Power Plant, on down to an intimate underground dining room alongside the original boiler.
The concept also features three kitchens – including an open wood-fire grill for public viewing – and a bar on every floor. The best part is that Seaholm Residences owners will carry a VIP status at Boiler 9, and will be kept informed of special opportunities and events. Just another benefit to calling the Seaholm Residences home.
In closing, we are grateful for your continued commitment to the Seaholm Residences. As always, please do not hesitate to contact us with any questions, comments, or should you require any assistance.
Warmest regards,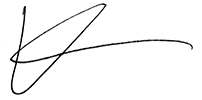 Mr. Kevin Burns
Broker/CEO, Urbanspace

Exciting news! The lowest level of the Seaholm Residences underground parking garage – Level 3 – is officially complete and the team is now pouring levels 2 and 1.
The Seaholm Power, LLC team has also completed the floor reframing and concrete pours on Level B1 of the Power Plant, and will have the Level L1 reframing and concrete pours completed in March. SXSW won't slow down the Seaholm team!
To top it all off, the team has completed the tunneling operation below the Union Pacific Railroad tracks to the west of the development, and installed the associated Austin Energy Chilled Water supply and return lines. This translates to us having chilled water for our a/c units and condo, which is very exciting!
Finally, in fantastic team news, the Seaholm redevelopment contractor, Flintco, held a luncheon for the construction crew to celebrate the third consecutive 90-day accident free work schedule. The Seaholm Power, LLC team is now at 300+ days without a recordable accident!

Panoramic View of Construction Site
Seaholm Residences Construction Site as of March 2014                                Installed Glass within the Power Plant

A sample of our residence renderings can be found below! Get excited for a look into the Seaholm Residences!
ONE-BEDROOM A4 FLOORPLAN: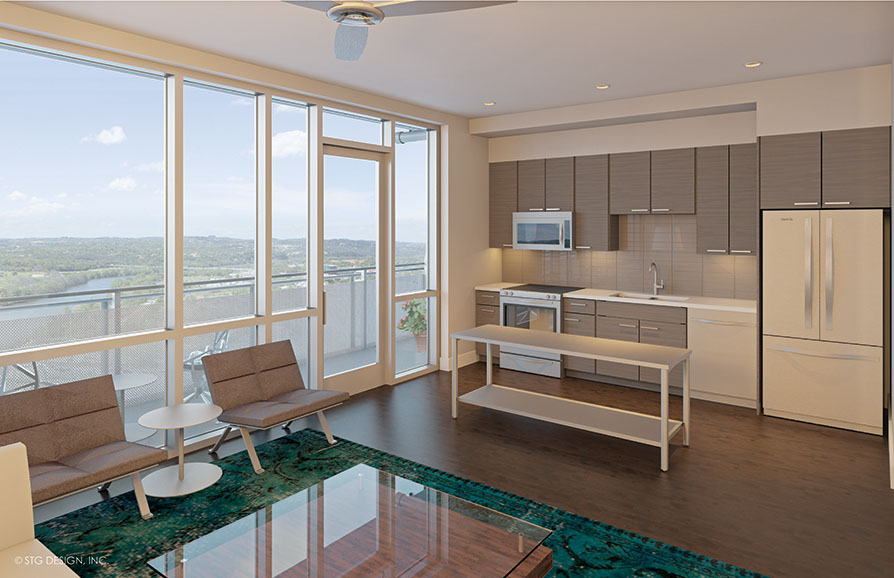 ONE-BEDROOM A6 FLOORPLAN: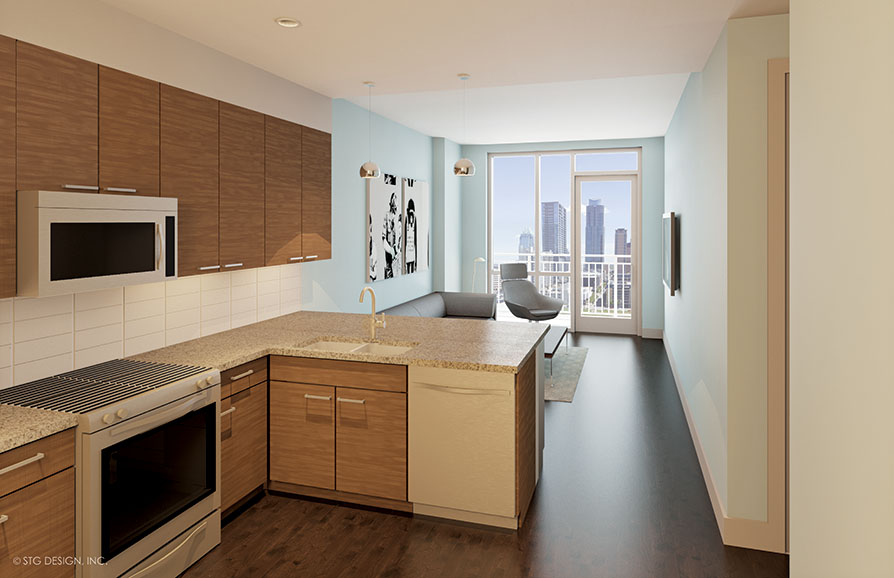 TWO-BEDROOM B5 FLOORPLAN: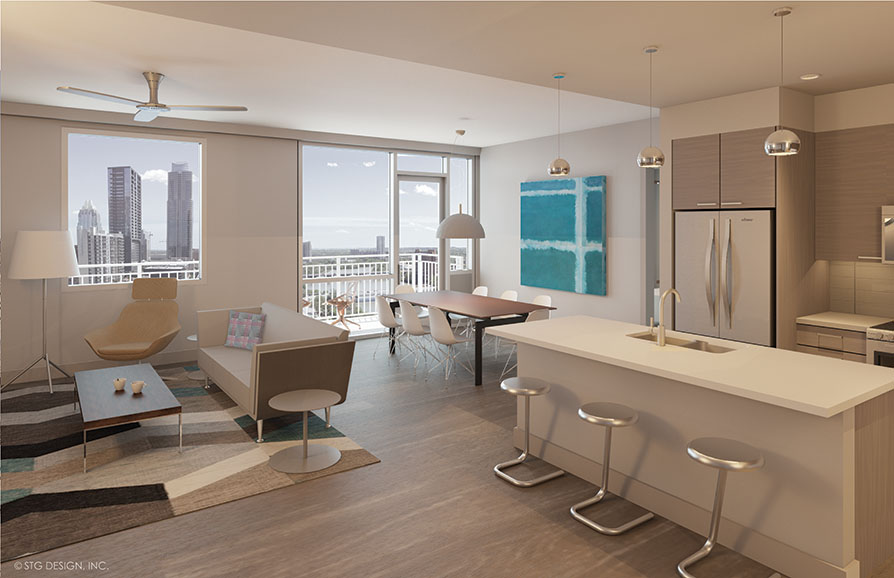 THREE-BEDROOM C1 FLOORPLAN: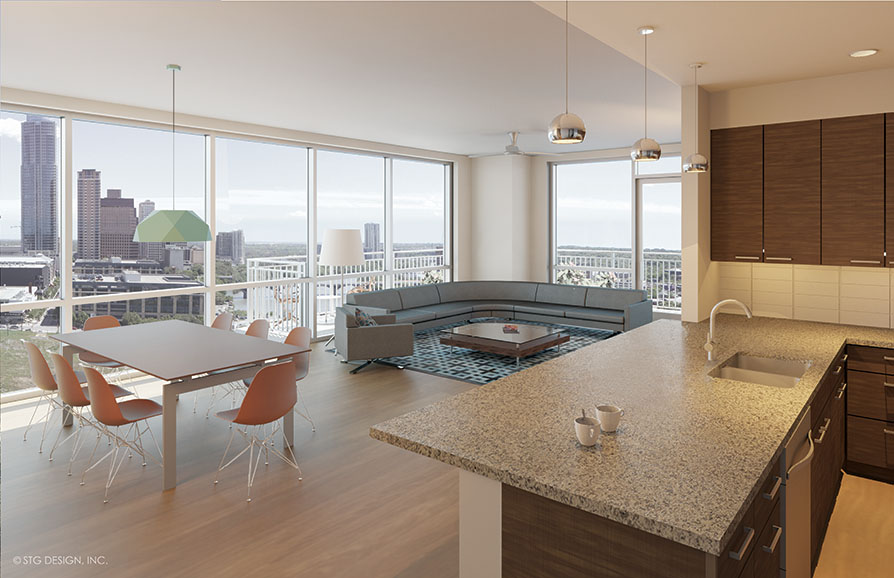 STUDIO S1 FLOORPLAN: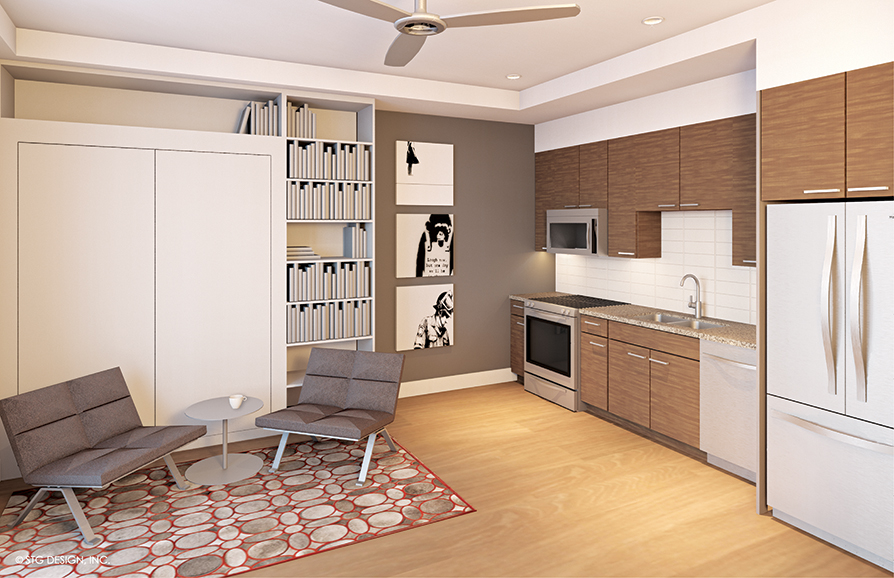 The Seaholm materials, designs, square footages, finished and features depicted by artist's or computer rendering are subject to change   and no assurance is made that the project or the condominium units are of the same size or nature as depicted or described. The images presented herein are made from photographs artistically assembled and retouched in order to approximate an impression of what the human eye will perceive at different heights, from different condominium units. Seaholm H/R, LLC is not responsible for any error or omission in this interpretation effort.

The Seaholm Residences team wants you to stay connected to all the developments in your future neighborhood, so we'll keep you in the loop on the best of what's planned in and around your new home.
With warmer weather and sunny days around the corner, we're starting to crave margaritas and outdoor patios. Let's take a look at two casual and fun Mexican restaurants around the Seaholm neighborhood: Benji's Cantina and Ranch 616.
Get to Know:
Benji's Cantina 

Good margaritas – check! Awesome rooftop deck with killer views of downtown – check check! Benji's Cantina is a welcomed addition to the West 6th Street corridor. With a house specialty of fajitas, Benji's uses traditional recipes, sourcing the highest quality ingredients available from partners such as Johnson's Backyard Garden, John Lash's Farm To Table, Rancho Gordo, Vital Farms and Countryside Farm. Open for lunch, dinner, weekend brunch, and offering a Monday-Saturday happy hour from 4-7pm, you have lots of opportunities to check out their rooftop deck and savor a delicious margarita!
716 W 6th Street
Austin, Texas 78703
Get to Know:
Ranch 616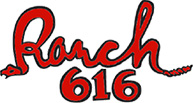 This south Texas style ice-house features "cooking from the Gulf Coast to the border towns" and everything in between. Their cuisine is not Tex-Mex, nor is it southwestern. Rather, Ranch 616 is a conceptually driven restaurant, featuring south Texas cuisine. With a menu spanning frog legs to prime cuts of beef to seafood tacos, you're bound to find something to please the whole crowd at Ranch 616. The House Rita is divine but try their Ranch Water while seated on their patio for a the perfect way to pass a Saturday or round up your day.
616 Nueces Street
Austin, Texas 78701

With the arrival of SXSW, spring is on our minds. Spring equates to soaking up the cool, yet comfortable winds and warm sun shining from dawn until dusk. As a Seaholm Residences owner, the best place to kick-back and savor this time of year is on your very own balcony overlooking your very own breathtaking view.
But to really enjoy this view and make your balcony look as great as your luxury condo, you need some killer – yet durable – furniture to fill the space. Kettal is our go-to source for outdoor seating and tables. Their Spanish-made pieces are crafted to look beautiful, but withstand the weather and outdoor elements.
With or without cushions, you can rock your Kettal pieces because all of their seams and hardware are hidden on the undersides of their furniture. How awesome is that?
Learn more about Kettal here:
http://www.urbanspaceinteriors.com/collections/kettal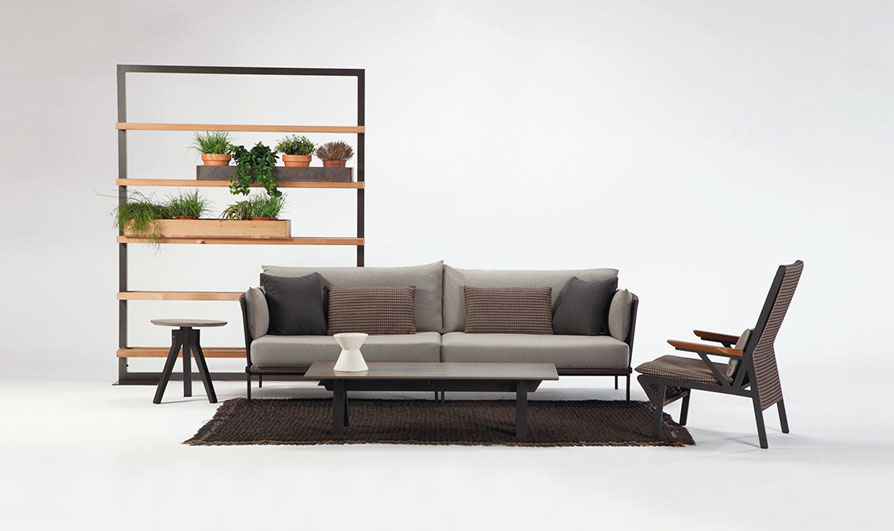 The materials, designs, square footages, features and amenities depicted by artist's or computer rendering are subject to change and no guarantee is made that the project or the condominium units are of the same size or nature as depicted or described.We are in compliance with Title VIII of the Civil Rights Act of 1968. We have not, and will not, either directly or indirectly, discriminate against you or any other prospective purchaser on the basis of race, color, religion, sex or national origin. This is not an offer to sell, or solicitation of offers to buy condominium units in states where such offer of solicitation cannot be made.
Related posts