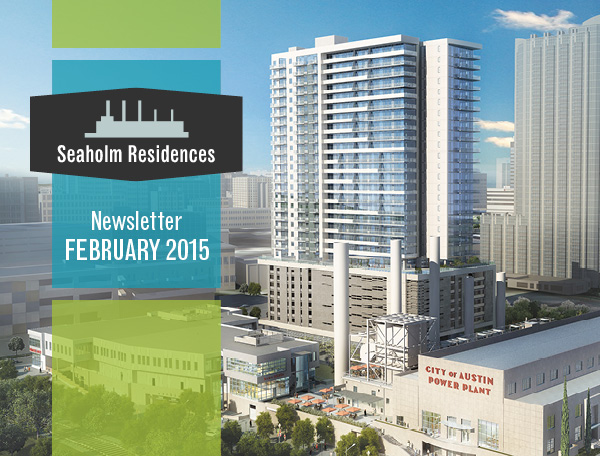 With a new year, we're proud to unveil a new format for our Seaholm Residences newsletter. We'll slim down the information, and save any buyer-specific details for individual outreach – to make it that much easier to catch those hot-off-the-press important details for move-in (which is just around the corner!). If you ever have any feedback, or ideas for the newsletter, please do not hesitate to email your input to us at anytime!
As a quick reminder, there's still time to be part of the New Center For Downtown Living! The team has a limited number of Owner Occupied Studio units available. A snapshot of the Studios can be found below:
Prices start at $323,800
558 SF
HOA fees of $237/month
Includes a full size parking space
Hardwoods standard throughout the unit (no upgrade needed!)
Gorgeous balcony
Ideal guest house or home office
Email contactus@seaholmresidences.com or call us at 512.200.7440 for further details! Hurry – they'll go fast!

The Seaholm Development Team has kicked-off the year with leaps and strides of progress and milestones! The team has laid the concrete flooring for floor 18, and with a schedule of roughly a new floor every ten days, the entire structure will be finished before you can say Seaholm Residences ten times fast!
Here is a look into progress in the full development:
Seaholm Power Plant
Athenahealth's Tenant Improvement work is nearly complete
Projected Athenahealth move-in is February 9th. Take a sneak peak look into their finished creative office space here
Boiler Nine Bar + Grill's Tenant Improvement work has kicked-off
North Plaza improvements are nearly complete
See Boiler Nine's Owner's interview below and learn more about this premiere addition to the Seaholm neighborhood! 
Seaholm Underground Garage
Final inspections are underway
Garage will be open for business in February (yay!)
Seaholm Low-Rise Building
Trader Joe's Tenant Improvement continues
Projected Trader Joe's opening in summer 2015
Tenant Improvements for second floor office tenant, Under Armour Connected Fitness (formerly MapMyFitness), are near completion
Seaholm Residences Residential Tower
Concrete deck pours are complete through the 17th floor
The first of two deck concrete pours for the 18th floor is underway
Work has begun on the exterior building skin
Curious to know more? Community Impact has the scoop on commercial tenant move-ins this spring and summer. Read all about it here.

Congress and 2nd Bar & Kitchen are two of our crowning culinary gems in Austin, thanks to Jeff Trigger, President & Owner of La Corsha Hospitality Group, and Executive Chef David Bull & Chef Jason Stude, Chef de Cuisine, of Second Bar + Kitchen.
With both restaurants located next door to the Austonian, Austonian residents have been able to enjoy Austin's finest as a virtual extension of their amenities. But starting in June of this year, La Corsha will enable the same exclusive amenity to residents of the Seaholm Residences and the community as a whole.
Boiler Nine Bar + Grill, whose name is derived from its location in the repurposed ninth boiler of the Seaholm Power Plant, will offer a culinary experience unlike any other Austin has seen. Imagine 10,000 SF of space, spread across three floors, offering an individual dining experience on each – including a rooftop Deck 9 observation deck.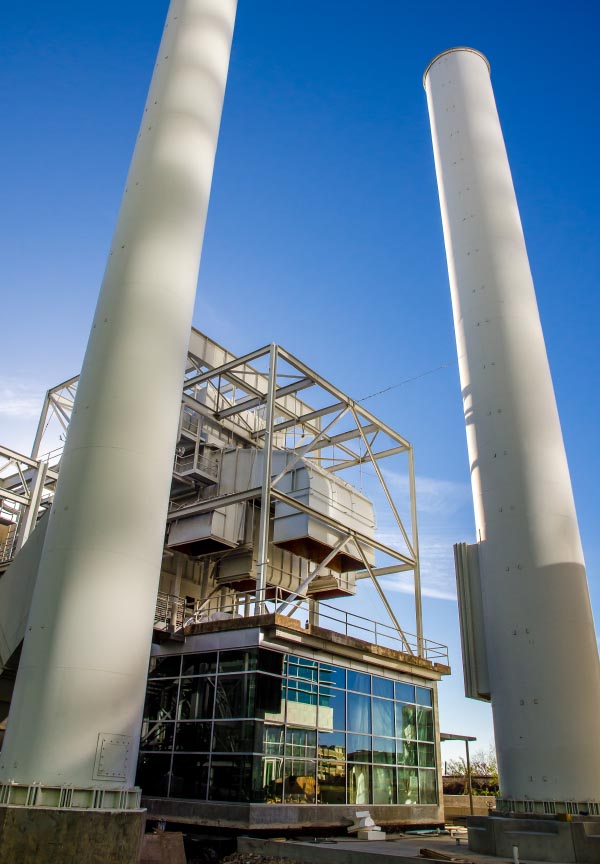 Future home of Boiler Nine Bar + Grill, within the northwest corner of the Power Plant 
Three menus will be anchored in the feel of each floor, and will take inspiration from the fire-driven process of the former Power Plant. Diners can anticipate the same sophisticated, yet innovative, menu you would expect from La Corsha's sister establishments.
The Seaholm team sat down with Jeff to further explore our soon-to-be favorite restaurant and bar – Boiler Nine Bar + Grill:
What attracted to you the Seaholm Power Plant redevelopment effort?
The stars aligned for us on this opportunity. On one hand, you have the Seaholm Power Plant, which is one of the most iconic buildings in Austin, and Boiler Nine, which is one of the most iconic parts of the former Power Plant.
On the other hand, you have a stunning setting in a rapidly evolving part of downtown. This central location will only be further enhanced and better positioned with time via transportation and density, but the views should always be preserved. Essentially, we're looking at the new center of downtown, and we're in the middle of it all.
What is your vision for Boiler Nine Bar + Grill?
In a nutshell, it's three bars, plus three menus, plus three stories. An individual experience is offered everywhere you go within the facility.
What do you think the residents and community will enjoy most about Boiler Nine Bar + Grill?
We hope that residents of the Seaholm Residences and community patrons will utilize Boiler Nine as their living room, dining room, and family room. Whether they wish to relax with sophisticated cocktails and yakatori in the Boiler Room (Underground Bar); invite family or friends to a four-course meal with drinks on the Ground Level (Loft) or one of the patios; or party outside on Deck 9 (the roof-top Observation Deck) – there is something for everyone.
Get excited to try Boiler Nine Bar + Grill in June 2015!

A new home needs a whole lot of you, and your design touches, to make it feel just right. It's an extension of you after all, so customize it from top to bottom.
But where to start? A good leaping-off point is the closet. Efficient use depends on your needs, so leave it to the experts to help identify how best to optimize it from top to bottom!
Here are two closet systems perfect for your Seaholm Residences condo or home of any size:
Gliss Up from Molteni & C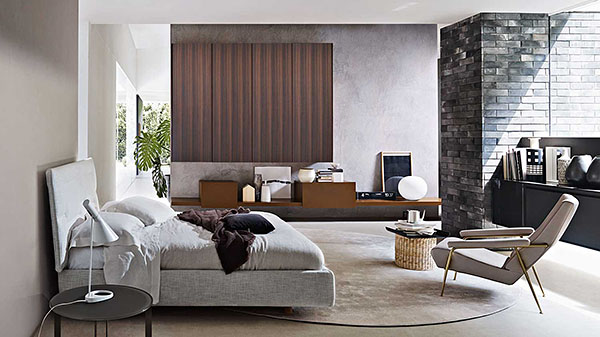 This is the newest addition to the Gliss family of wardrobes and closets fromMolteni & C.  Gliss Up is an elegant solution that separates the traditional freestanding wardrobe into two parts: a lower organizing shelf with drawers and upper cabinets for hanging items.  It provides a visual lightness that is in contrast with traditional wardrobe solutions.
http://www.urbanspaceinteriors.com/products/gliss-up-wardrobe-system-by-molteni-c
Gliss Quick from Molteni & C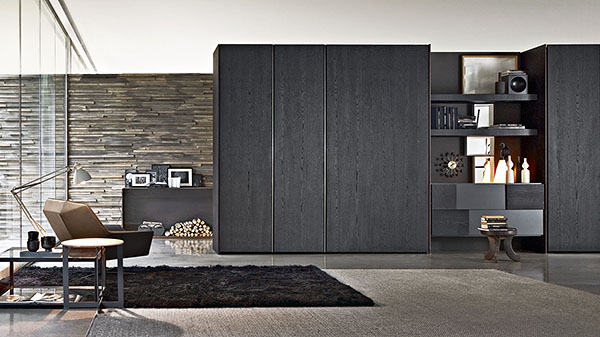 The materials, designs, square footages, features and amenities depicted by artist's or computer rendering are subject to change and no guarantee is made that the project or the condominium units are of the same size or nature as depicted or described.
We are in compliance with Title VIII of the Civil Rights Act of 1968. We have not, and will not, either directly or indirectly, discriminate against you or any other prospective purchaser on the basis of race, color, religion, sex or national origin. This is not an offer to sell, or solicitation of offers to buy condominium units in states where such offer of solicitation cannot be made.
Related posts