August 2014
Dear Friends of the Seaholm Residences:
The Seaholm Residences team is now through our first milestone of reservation to contract transition, and we're proud to announce that we have secured a record conversion rate. This unprecedented success reinforces the community's consensus that the Seaholm Residences truly is the new center for downtown living.
 
This exciting milestone also equates to the team engaging the wait list for the low percentage of remaining residences. The team is lined up and ready to begin reaching out to wait list stakeholders based upon their unit preference, so should you receive notification from a Seaholm Residences sales team member, please expect in-depth guidance as to next steps and how to move forward on securing your Seaholm residence.
 
In the interim, we've included a Frequently Asked Questions section below to help provide insight and understanding as to how the process will proceed.
 
In closing, we are sincerely grateful for your continued patience, commitment to, and interest in the Seaholm Residences. In order to ensure a seamless outreach effort, we kindly ask you withhold any inquires regarding your wait list placement at this time.
 
Thank you! We wish you a wonderful end of summer!
Warmest regards,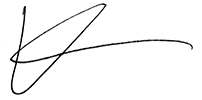 Mr. Kevin Burns
Broker & CEO, Urbanspace

The Exclusive Brokerage for the Seaholm Residences 

The construction team is hitting new milestones every day in the Seaholm neighborhood, and we're so excited to share the most recent developments on each aspect of the site:
Seaholm Power Plant​
Site work on the south lawn continues
Power washing and exterior concrete sealing is wrapping up
Interior framing, sheetrock and painting continues

Seaholm Underground Garage 
Feature staircase leading to the Plaza is in the process of completion
Lighting installation continues
The sprinkler system is complete

Seaholm Low-Rise Building
Building skin and waterproofing continues
Roof installation is now complete
Storefront glass installation continues
Trader Joe's has kicked-off interior work on their space

Seaholm Residences Residential Tower 
The deck for the sixth floor parking level has been poured
The deck for the seventh floor parking level has been poured
The deck for the eighth floor parking level has been poured
Step-by-step, we're moving vertically towards the sky, and inching closer to project completion.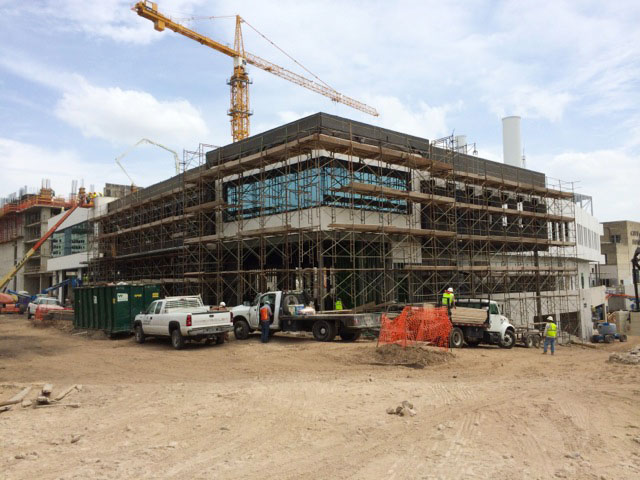 Looking towards the NW corner of the Low-Rise Building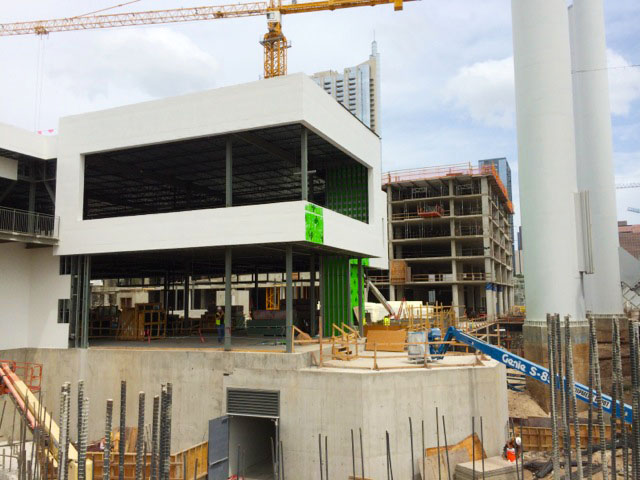 Looking towards the SE corner of the Low-Rise Building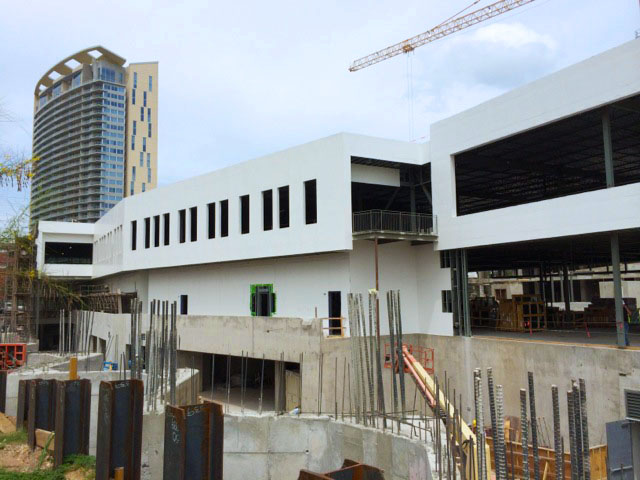 Exterior of west side of Low-Rise Building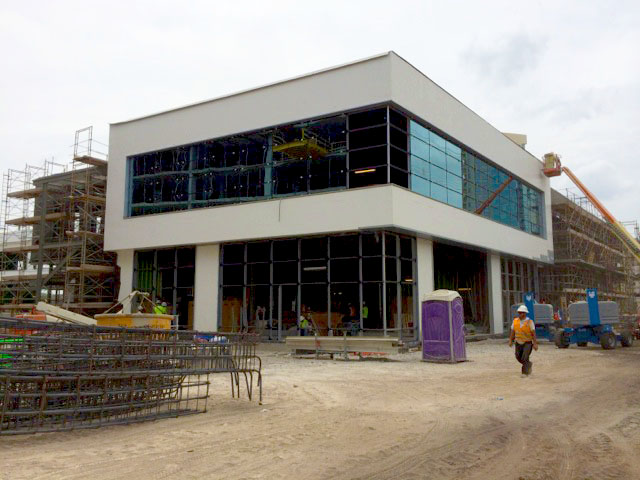 Glass installation continues in the Low-Rise Building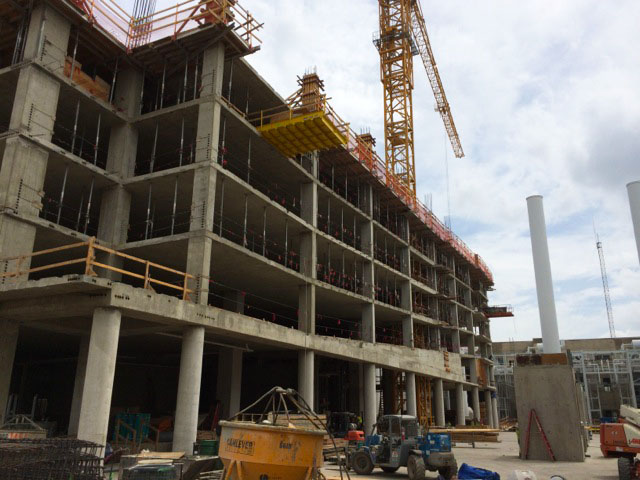 View of the Seaholm Residences from the Plaza 

Q:  If I am on the wait list for Studio, 1 bedroom and 2 bedroom units, will I be contacted for all available units at once?
A:  There is currently a wait list for each unit type, and your placement is determined by when you joined the wait list and existing demand. Therefore, you could be first in line for the Studio, 30th on the 1-bedroom wait list, and 200th on the 2-bedroom wait list.
Please note: these are fictional numbers and not necessarily indicative of the length of each wait list.
Q:  Will I be able to buy an unit as an Investor?
A:  The building has met its 25% investor cap, so all currently available units will be primary and secondary residence units. You will be able to place your name on a lease permit wait list at contract signature.
Q:  Will I be able to purchase multiple units?
A:  Multiple units are not available for purchase at this time.
Q:  Will I be able to select my parking spaces?
A:  Unit parking was assigned well in advance of contract conversion, so parking spaces are confirmed and assigned for all units in the building.
Q:  Can I purchase a unit under a trust, IRA or other entity?
A:  As long as you are the majority owner of the trust, IRA or entity, you may purchase a unit through this vehicle.
Q:  How much time will I be given to decide if I would like to move forward on the available unit presented to me?
A:  There is limited supply and units will go quickly!

New neighbors are moving into the Seaholm neighborhood! Rather than looking outside the new center for downtown living, let's explore the newest Seaholm neighbors in this edition of Live the Seaholm Lifestyle.
Get to Know:
Optique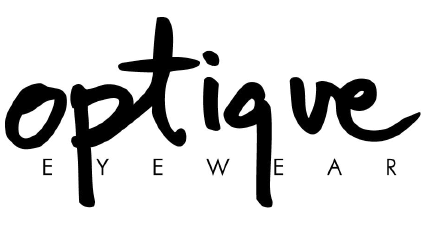 Optique eyewear is excited to relocate and expand it's existing downtown location to the Seaholm redevelopment project. Optique will continue to offer distinctive full-service optometric services, a large exclusive selection of eyewear and in house state of the art prescription lens-making technology to the downtown Austin community. Optique expects this expansion to allow for the finest inventory of eyewear in central Texas.

http://www.optiqueaustin.com

Seaholm Low-Rise Building 
 
Get to Know:
Jackson Ruiz Salon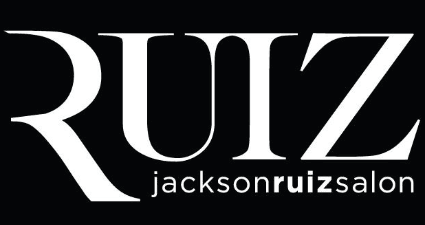 Jackson Ruiz opened its doors in 1998 to immediate acclaim.  Recognized nationally as an award-winning salon, for its innovative business practices, and strong editorial presence, Jackson Ruiz leads Austin's beauty and fashion scene.  This Austin, Texas salon has been featured often in Harper's Bazaar, Vogue, In Style, Glamour, Marie Claire and has been a mainstay at New York Fashion Week, styling hair for such acclaimed designers as Zac Posen, Michael Kors, Betsey Johnson, Rodarte, and Proenza Schouler.

http://www.jacksonruiz.com

Seaholm Low-Rise Building

Storage solutions help you make the most of every square inch in your new Seaholm residence, and there's one place to maximize storage that generally goes unnoticed – your bed! I'm not talking about adding storage boxes under the bed…I'm talking about turning your whole bed into an easily-accessible storage space!
 
For example, take the Nathalie Storage Bed from Italian-based Flou. This amazing piece has a platform built upon a suspension system that lifts easily – just pull on the base of the bed and the pistons do all the work.  
 
You can add up to 42 cubic feet of storage, and the enclosed space stays clean – unlike underneath a bed. Best news is that you don't have to sacrifice design for functionality. Flou beds are highly customizable from the headboard all the way to down to the base feet.
 
This bed is also available as part of the Urbanspace Interiors Quick Ship Program, so you can expect to experience a heavenly nights sleep in just three to four weeks!
 
http://www.urbanspaceinteriors.com/collections/flou/products/nathalie-bed-by-flou






The materials, designs, square footages, features and amenities depicted by artist's or computer rendering are subject to change and no guarantee is made that the project or the condominium units are of the same size or nature as depicted or described.
We are in compliance with Title VIII of the Civil Rights Act of 1968. We have not, and will not, either directly or indirectly, discriminate against you or any other prospective purchaser on the basis of race, color, religion, sex or national origin. This is not an offer to sell, or solicitation of offers to buy condominium units in states where such offer of solicitation cannot be made.
Related posts