April 17, 2014
Dear Friends of the Seaholm Residences:

How exciting! We're swiftly moving through our pre-contract milestones, and can slowly start to see contract transition in the horizon. In part of our pre-contract milestones, we are so proud to share that our four Finish Boards – the Lady Bird Lake, Skyline, Capitol and Hill Country finishes – are on display in the Urbanspace Showroom, and have been well received within the future Seaholm Residences community.
With contract transition around the corner, the Seaholm Residences team will soon have a more precise understanding of which reservations will not come to fruition, and in turn, which units will be brought back to market. Our fingers are crossed that you are able to call the Seaholm Residences home much sooner than later.
The Seaholm Residences team is grateful for your commitment to this one-of-a-kind luxury condo tower. With a wait list of well over 1,000 potential buyers, we appreciate your continued interest in this endeavor.
As always, should you have any questions, comments or need any assistance, please do not hesitate to contact us at anytime.
Warmest regards,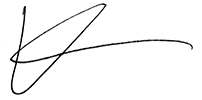 Mr. Kevin Burns
Broker/CEO, Urbanspace

Exciting news! Work on the residential tower has hit a new milestone!  All three levels of the underground garage, below the footprint of the tower, are complete and we are officially going vertical!
 
Work continues on the remainder of the underground garage, and we'll erect the steel structure for the low-rise building (future home of Trader Joe's) in May.
 
Additionally, work has started on the tunnel that will connect Level 1 of the underground garage to the Power Plant.  

All of the Power Plant's existing single pane windows are being replaced with energy efficient insulated Low-E glass, and the repair and cleaning of the building exterior has begun. It will soon look as good as new! 
 
Lastly, the Public Roadway Improvements bid opening took place, and the contractor has been certified by the City of Austin.  Work will begin this month.
 
More details to come soon!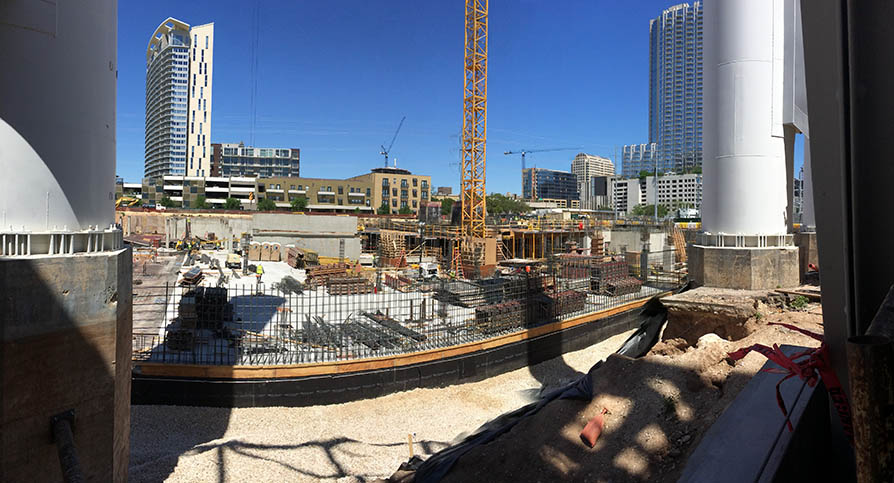 Panoramic View of Construction Site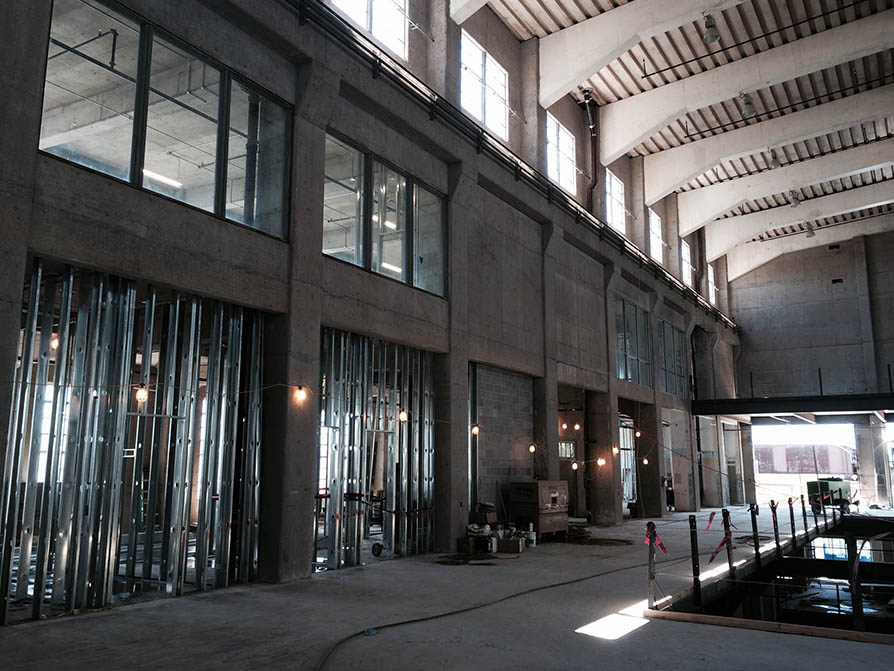 Inside Seaholm with New Framing, Looking Out on Future Entrance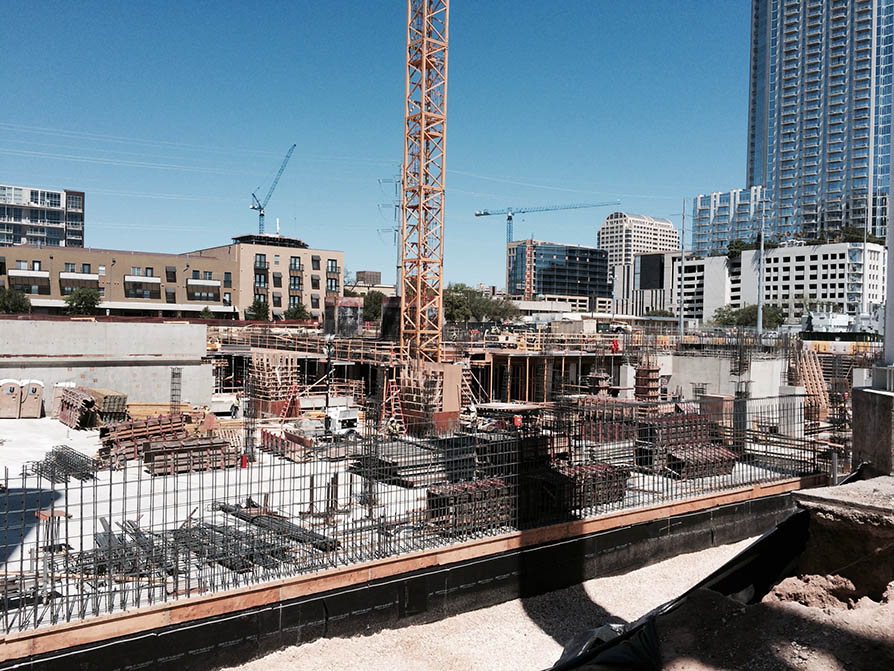 Top of Garage / Bottom of Highrise

Finish Boards are here! The four finish packages – Capitol, Lady Bird Lake, Hill Country and Skyline – not only represent the stunning Seaholm Residences' view corridors, but also span the range from a contemporary, lighter finish, to a rich, darker option to suit every taste.
You've seen the recently released interior renderings, but get ready to examine the sleek hardwood flooring, European cabinetry, spa-like bathroom tile, luxe kitchen countertops and comfy carpeting samples for the Seaholm Residences. We're eager for you to witness just how these finishes solidify the Seaholm Residences superior quality and luxury feel, and surpasses many of its downtown peer condo towers.
Images of the Finish Boards will be live on our site soon, so check our Facebook page for when they've made their public debut!

Get excited! We have a new video for you, and amenity and exterior renderings can be found below! More renderings to come soon.
If you haven't already, make sure to "Like" the Seaholm Residences on Facebook for a look into our newest videos and renderings the moment they're released!

LIVIN' THE SEAHOLM LIFESTYLE:


SEAHOLM PLAZA: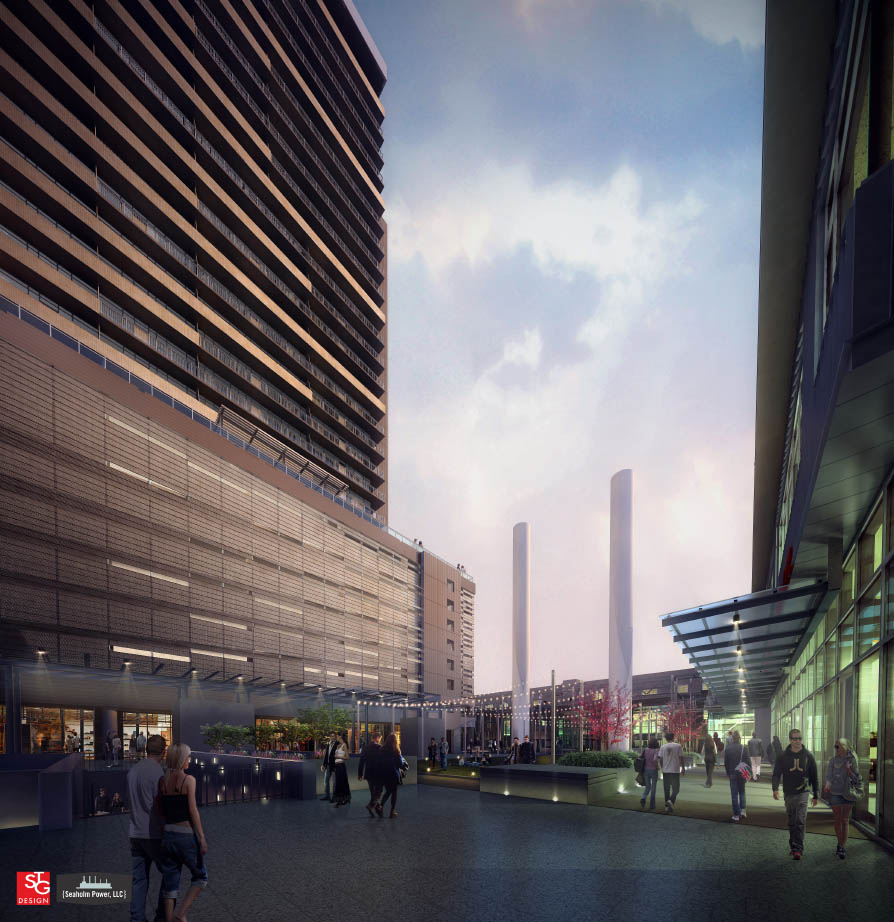 SEAHOLM RESIDENCES AMENITIES SKYDECK VIEW 1: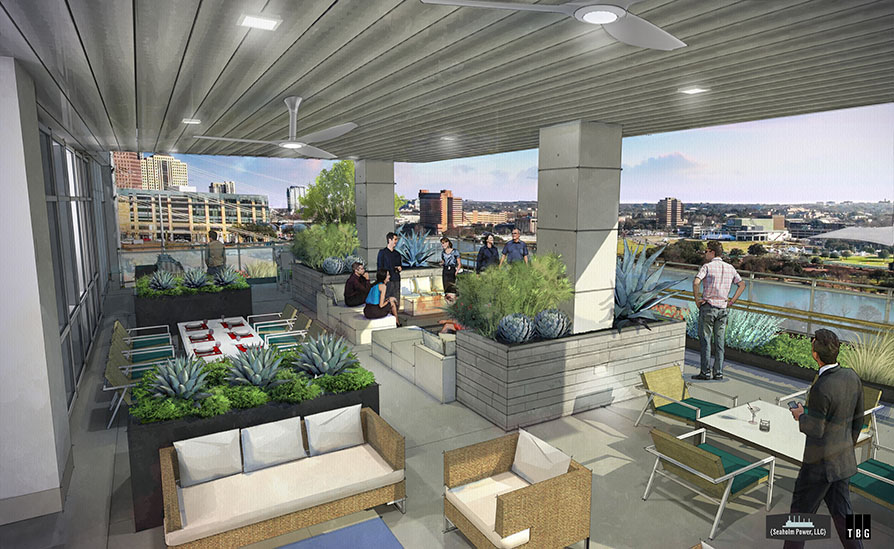 SEAHOLM RESIDENCES AMENITIES SKYDECK VIEW 2: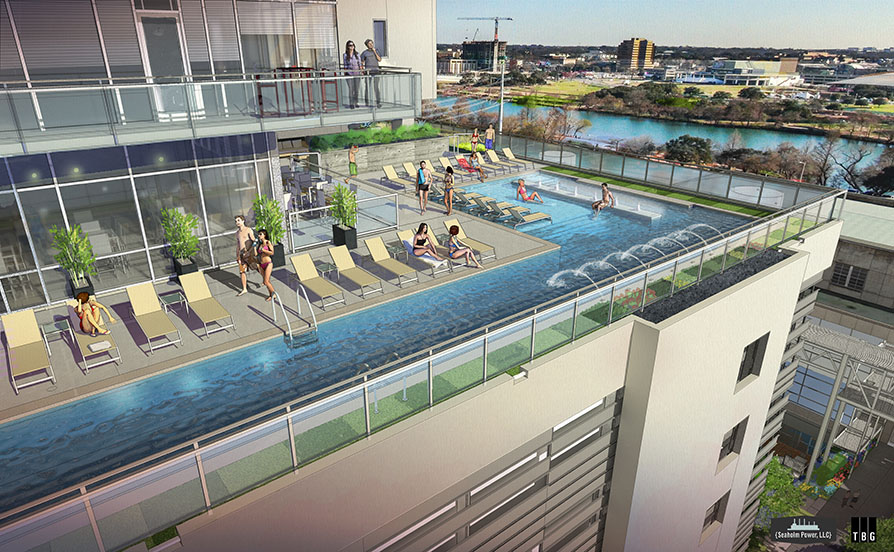 | | | |
| --- | --- | --- |
| | | The Seaholm materials, designs, square footages, finished and features depicted by artist's or computer rendering are subject to change and no assurance is made that the project or the condominium units are of the same size or nature as depicted or described. The images presented herein are made from photographs artistically assembled and retouched in order to approximate an impression of what the human eye will perceive at different heights, from different condominium units. Seaholm H/R, LLC is not responsible for any error or omission in this interpretation effort. |

With your sights set on your future luxury condo, why not enjoy a little me-time and pampering while planning out all the details of your new home?
With a number of fantastic options around the Seaholm neighborhood, let's focus in on two of our best spas in downtown – Mecca Gym & Spa and Milk & Honey.
Get to Know:
Mecca Gym & Spa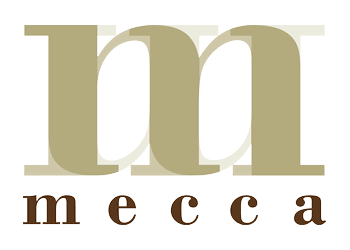 Mecca Gym & Spa boasts a "luxury retreat where strength and fitness meet relaxation and rejuvenation." By combining traditional philosophies with a modern lifestyle, the spa at Mecca brings a sense of balance and well being to the daily grind. Also offering out of this world treatments in sync with home grown, seasonal ingredients, the focus at Mecca is tailored wellness, mental serenity and increased physical strength. Try the Mecca Monthly or BijaBody Treatment on your first visit as both come complete with a massaging water Vichy Shower and refreshing complimentary cocktail.
524 Lamar Blvd., 3rd Floor
Austin, Texas 78703
Get to Know:
Milk & Honey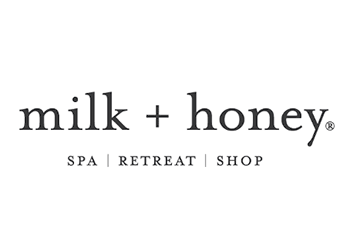 Located a few short blocks from the Seaholm Residences, Milk & Honey spa and retreat offers world-class pampering from head to toe. Whether you're looking for a relaxing massage, a detoxifying steam, signature facial, therapeutic acupuncture sessions, or just a polish update for your big night out, Milk & Honey has you covered. Even the gents are taken care of, with their own "For Men" tailored spa menu options.
www.milkandhoneyspa.com
100A Guadalupe Street
Austin, Texas 78701

One look at the recently released interior renderings, and the interior designer inside of each of us comes to life! Envisioning your belongings, style and taste in your new space, and then watching it all come together upon move-in, is one of the most fun parts of finding a new home.
From lighting on the ceiling, all the way down to rugs atop your gorgeous hardwood floors, and everything in between, it takes a lot to fully furnish your new home.
Speaking of everything in between we'd like to introduce you to Finell, an Austin-based neo luxe line that is catching major national and international attention faster than you can say Seaholm Residences!
With forward-thinking housewares and accessories, and a soon-to-be launched lighting line, Finell brings that unique touch to your new condo that is unlike anything you've seen before.
Learn more about it here:
http://www.urbanspaceinteriors.com/collections/finell






The materials, designs, square footages, features and amenities depicted by artist's or computer rendering are subject to change and no guarantee is made that the project or the condominium units are of the same size or nature as depicted or described.We are in compliance with Title VIII of the Civil Rights Act of 1968. We have not, and will not, either directly or indirectly, discriminate against you or any other prospective purchaser on the basis of race, color, religion, sex or national origin. This is not an offer to sell, or solicitation of offers to buy condominium units in states where such offer of solicitation cannot be made.
Related posts